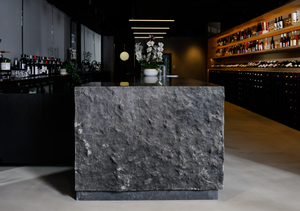 WHO IS THE DAUGHTER?
The Daughter is a female-owned and operated boutique natural wine bottle shop & bar where you can purchase wine to go and have a drink and food at the bar.
Located on the corner of Bayview Avenue and Belsize Drive, the shop is bright and airy during the day while the bar is dimly lit and intimate at night.
Our curated collection of natural wines spans countries and varietals, both Old World and New World and boasts some of the most coveted natural wines and producers in the world.
From classic flavour profiles to funky and unconventional, we have the perfect bottle for every type of wine lover. We are passionate about helping our customers find the best wine pairing for any occasion, collection, meal or mood.
Our menu was designed to accompany the natural wines found at the shop. From charcuterie and cheese and towering mortadella sandwiches, to seasonally inspired vegetable dishes made from quality, local and seasonal ingredients.
The bottle shop opens at 12PM and the kitchen serves food from 12PM-10PM.