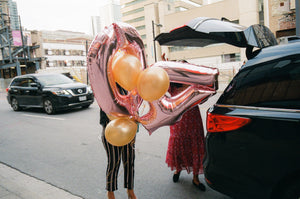 Events and Gatherings
Hosting a birthday? Celebration? Professional event? We have multiple options to fit your party size and needs.
Behind a concealed entrance, you'll find our private lounge that can host up to 30 people. You and your guests can privately mingle in a lounge filled with vintage finds, an independent sound system, and a record player all while enjoying delicious plates and beautiful natural wine.
Looking to host a more casual gathering at The Daughter? We can organize a spot for you and your group in our main room, making sure your glasses are full and food cravings met.
More than 30 guests, no problem. Our bar, together with the private lounge, can host up to 99 people.
Private Tastings
They say the best way to learn is by doing. Accordingly, the best way to learn about natural wine is by tasting!
Go on a flight with The Daughter through the fields of Austria, the seaside cliffs of Spain, or the fertile vinyards of Ontario. Discover producers, grape varietals, and plenty of wines that will take you on an exciting and surprising journey.
Fasten your seatbelts and secure all hand luggage underneath your seats or in the overhead compartments. Enjoy the journey and thanks for flying with The Daughter.
Weddings
Whether you're looking for a few special bottles or enough natural wine to fill a wedding hall we can help fulfill all your natural wine needs.  
We've got mix packs, budget friendly options, elevated champagnes, and tons of party wines. Whatever you are looking for, we want to help make your celebration everything you want it to be and more.  

Wine Club
COMING SOON! COMING SOON! COMING SOON!
Sign up for our newsletter below to find out when we will be launching our natural wine club.